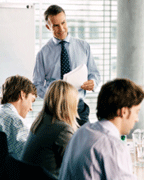 Differential Group attracts the best capital to your commercial real estate transaction. Just as essential, we provide reliability and certainty of execution.
Differential Group was founded by David Polevoy and has been active in commercial real estate since 2008. Previous to a career in banking, a corporate career provided hands-on experience in account management, business operations and finance. David has a Bachelors of Science degree in Aerospace Engineering from the University of Colorado and an MBA from the Darden School of Business at the University of Virginia.
We deliver results to business owners and real estate investors because we have built strong relationships with financial institutions and industry experts. We know how to leverage that value to fulfill our client's goals.